ODAA4
Open planetary science for effective knowledge co-creation and dissemination
Knowledge creation is a collaborative process including synergies between different disciplines, communities and stakeholders. The framework of open science is also connected to the involvement of people outside academia, such as amateur societies, school students, corporate partners etc. Open science has a variety of aspects and applications. What are the efforts done in the field of planetary sciences to establish and increase openness? To what degree planetary science researchers and practitioners endeavour accessibility within the various communities - academics and non-academics? During this session these and other relevant questions will be addressed through the presentation of open planetary science projects, tools, data and platforms. Furthermore, the current status and the potential for future efforts towards an open and public planetary science scheme will be discussed. Building upon the success of the session in EPSC2020, planetary scientists, researchers and other stakeholders are welcome to present new projects and the developments of previous ones, in the context of promoting open & public science. Moreover, the session will include a discussion on the establishment of an open science forum for planetary sciences.
Convener:
Anastasia Kokori
|
Co-conveners:
Angelos Tsiaras,
Julie Nekola Novakova,
Caterina Boccato,
Andrea Brunello,
Peter Fuchs,
Henrik Hargitai,
Attila Jeremias Kiraly
Mon, 20 Sep, 15:10

–15:55

(CEST)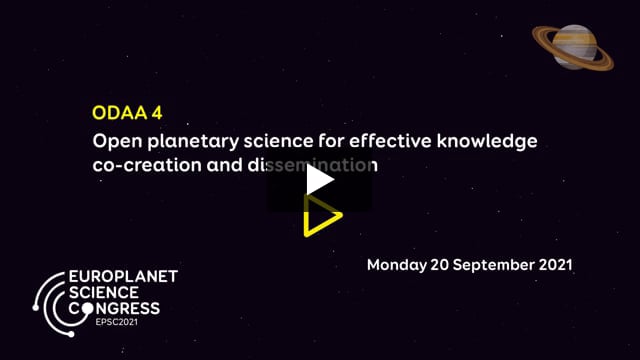 Session assets
Please decide on your access
Please use the buttons below to download the presentation materials or to visit the external website where the presentation is linked. Regarding the external link, please note that Copernicus Meetings cannot accept any liability for the content and the website you will visit.
Forward to presentation link
You are going to open an external link to the presentation as indicated by the authors. Copernicus Meetings cannot accept any liability for the content and the website you will visit.
We are sorry, but presentations are only available for users who registered for the conference. Thank you.